Born out of the wild, raw power, and elegant fury of molten metal, Big Bad Horns emerges with the raw and rockin sounds of Modern and Classic Horn Band legends.
This massive 2 DVD, 13 GB library (6.7 GB of 24-bit WAV files) is a tribute to groups like Harry Connick Jr, Maroon 5, Tower of Power, Count Basie Big Band, Chicago, Mark Anthony, Glen Miller Orchestra, Blood Sweat and Tears, Ohio Players and a host of others. This library is a powerful punch of jazz, rock, blues, soul, latin, and funk and is filled to the brim with sax, trumpet and trombone sections, solo trumpet, sax, clarinet and trombone, raging and jazzy electric guitars, pounding and swingin drums, boppin and thumpin upright and electric bass,  soulful pianos and organs, and way too many spit valves to mention!
Big Bad Horns will energize your music tracks with crackling kits of jazz, rock, blues, soul, latin and funk, all ready to combust and give your tracks the untamed attitude that only live horn players can give you. So go ahead and feel the explosive power, inject your songs with the sizzling sounds of Big Bad Horns.
----------------------------------------------------------------------------------------
Big Bad Horns Kontakt version is part of our KLI Series and includes a custom user interface with various features to help make it easier to customize the include loops and sounds exactly how you want. You'll find all loops automatically sync to your host tempo. Each loop is presented in four different ways.
First, with the "Kit Combos" you'll find each loop as part of a complete construction kit laid out across the keyboard for easy and quick arrangements.
Second, with the "Single Instruments" you'll find that each instrument is grouped into like instruments to allow you to quickly find all specific instruments in the library.
Third, each loop has it's own patch in the "sliced loops" section with our custom loop editing interface. Rearrange, remix, or completely rework each loop to fit with your music exactly how you want.
Finally we have included a demo section for quick auditioning of the entire library.
The KLI version of this product comes with the KLI 2.0 update and comes in both Kontakt 4 and Kontakt 5 versions. For those with the full version of Kontakt 5, take advantage of the new high quality and extremely flexible new time stretching algorithm as well as a bunch of new included FX.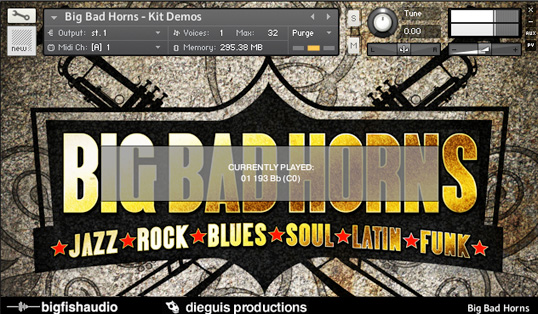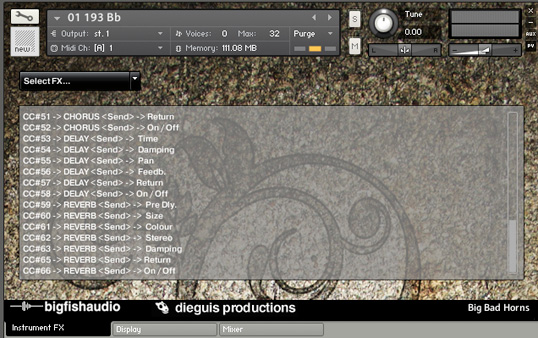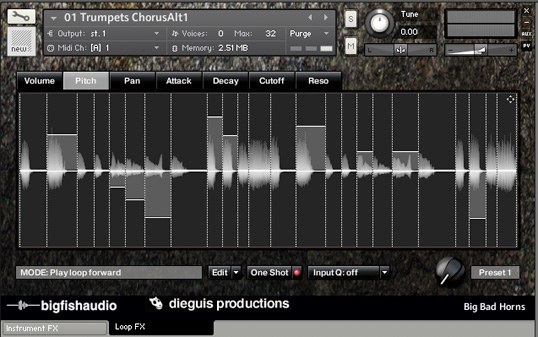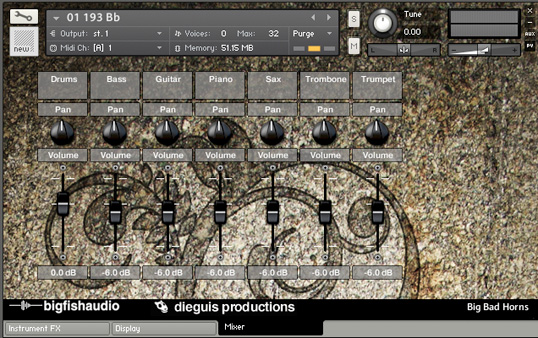 ----------------------------------------------------------------------------------------
Xtend Beyond Creativity
The Xtended Series from Big Fish Audio is your new standard for creating the music you want on your terms. This inspired series is for the discerning music creator who wants to unleash the creative artist within by providing them with complete creative freedom over their music production.
This exciting new series delivers Massive Construction Kits, giving you complete access to vast libraries with multiple song style sections and an almost limitless amount of variations so you can explore your creativity unhindered. Each of the Xtended Series Libraries is Hand-Crafted with exquisite detail and care, delivering the quality and authentic content that will completely surpass your preconceptions of what "Construction Kit" Libraries are.
As a master of your own creativity, with the Xtended Series, you are no longer bound by a budget to get the big budget sounds you want.
This Series gives you access to a complete recording session with nothing held back, every little nuance and lick right at your fingertips, including the complete multi-drum tracks for you to tweak just the way you like it.
This series provides the music creator with the ultimate depth of selections we've ever created.This extensive variety grants you the ability to give your creative expression free rein to create complete musical arrangements that will satisfy even your inner artist. So experience the freedom of being Xtended, and unleash your creative genius on the world.
Multi Format Version
- 12.9 GB  of material (6.6 GB of 24-bit WAV files - Including Complete Live Played Multi-Track Drums)
- 4931 files in WAV, REX and Apple Loops (2283 WAV Loops)
- 15 Massive Construction Kits: Each kit contains a demo mix, every element broken out with multiple song style sections and tons of variations. Complete Live Played Multi Drums of each and every kit allows you to tweak to your hearts content. You get the entire recording session, every nuance and every detail right at your fingertips.
- 1297 WAV Loops
- 1297 Apple Loops
- 1351 REX Loops
- 986 Multi-Track Drum Loops (WAV)
Instruments Include:
Drums (97 Audio Files)
Bass (90 Audio Files)
Guitar (111 Audio Files)
Piano (78 Audio Files)
Saxophones (85 Audio Files)
Trombones (80 Audio Files)
Trumpets (77 Audio Fies)
Organ (30 Audio Files)
Power Guitar (12 Audio Files)
Wah Guitar (12 Audio Files)
Wurlitzer (20 Audio Files)
Keys (4 Audio Files)
Kontakt Version (KLI 2.0)
Using these Kontakt Patches requires the full version of Kontakt version 4.2 or later.
Big Bad Horns includes over 4.3 GB of content with 1315 different kontakt patches.
Demo Patch - There is a Demo Patch which provides the user with all of the demos from each of the song kits in one instrument.
Kit Combos - 19 patches are included in the Kit Combos section. Each patch contains each loop from that construction kit to create quick and easy arrangements.
Single instruments Patches - There are 19 different patches of single instruments which provide you with a collection of the same type of instruments ie. "Electric Guitars" - this instrument would provide you with all of the Electric Guitars from each of the various kits in this collection.
Sliced Loops - Each loop from the product has been given it's own patch and can be edited extensively using the "loop fx" interface.
Drums Only Version
WAV Loops: 994 MB (196 Loops)
Apple loops: 978 MB (196 Loops)
REX Loops: 497 MB (212 Loops)
MultiDrums: 2.52 GB (986 Files)
Kontakt: 978 MB with 198 different kontakt patches
Download Sizes
Version
Compressed Download Size
Apple Loops/REX/WAV/Acid Download includes
WAV/Acid: 3.36 GB
Apple: 3.3 GB
REX: 2.15 GB
Multis: 2.0 GB
Kontakt 4/Kontakt 5 Download includes
Kontakt pt 1: 1.84 GB
Kontakt pt 2: 1.58 GB
Install Video: Video
Kontakt 4/Kontakt 5 Download includes
Big Bad Horns (Drum ONLY) - Kontakt: 944 MB
Apple Loops/REX/WAV/Acid Download includes
Big Bad Horns (Drum ONLY) - WAV: 924.2 MB
Big Bad Horns (Drum ONLY) - Apple: 910.8 MB
Big Bad Horns (Drum ONLY) - REX: 497.2 MB
Big Bad Horns (Drum ONLY) - Multi-Drums: 2 GB
*When ordering the download product from Big Fish Audio you will be given one or more links for each of your product purchases. The links will be active for 24 hours. During this time you should download the file and expand it. You can return to your Big Fish Audio account at any time and download your products. You will find your products in the "My Products" area of your account page.
License Agreement
The Following End User License Agreement is included with Big Bad Horns. This License is only valid for the individual who has purchased an unopened, new and lawfully made copy of Big Bad Horns from a dealer or distributor authorized by Big Fish Audio.

"The samples contained on our products are licensed, not sold to you, the individual end user, by Big Fish Audio. This non-exclusive, non-transferable license is granted only to the individual end user who has purchased an unopened, new and lawfully made copy of this product from a dealer or distributor authorized by Big Fish Audio. All samples remain the property of Big Fish Audio and are licensed only for use in the creation of a recorded or live performance that includes the licensed samples as part of a derivative musical work created by the licensed end user. This license expressly forbids resale, rental, loan, gift or transfer of these samples in any format or via any medium, except as part of a derivative musical work. This license does not allow you to include the samples, whether unmodified or as part of a derivative work, in any music library or sample library product. However, a "special use" license may be requested from Big Fish Audio, free of charge, if you wish to use this product as part of a musical work intended for use with music libraries (some conditions apply, and Big Fish Audio retains the right to refuse any request that does not meet those conditions). Any unlicensed usage will be prosecuted to the maximum extent possible under the law."
Free Packs
Free samplepack featuring one free kit of loops. These packs only contains a partial set of loops from the included kit. The full library contains various other loops and samples from the kit. These packs contains WAV, REX, Apple Loop and KLI versions of each loop or sample.
Download Size: 79 MB Click here to Download KLI
Download Size: 105 MB Click here to Download Multi-Format
Back to top