UVI Electro Suite is a unique compilation of powerful instruments and a huge sounds library -- featuring construction kits, loops and single elements -- exclusively dedicated to Electronic Dance Music.
Simple use, rich sounds and inspiring tools -- create your own electro hits at a glance!
By the makers of David Guetta's ElectroBeats!
Five easy-to-use instruments and tools: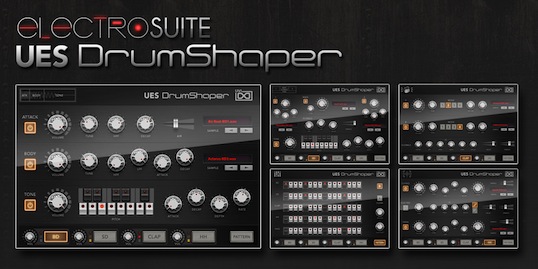 1. UES DrumShaper
The easiest and fastest way to:
+build new fresh kicks, claps, snares & hats
+quickly create a pattern while shaping sounds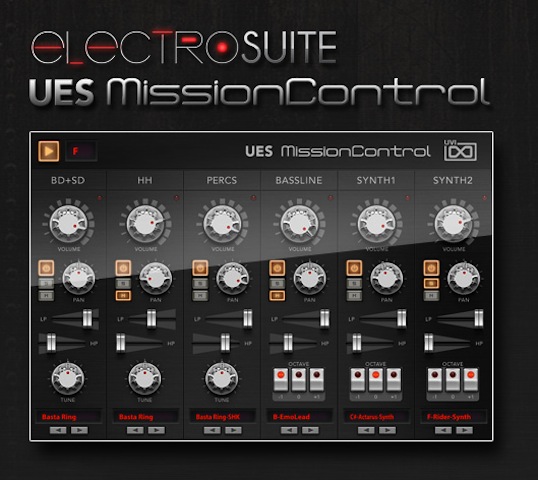 2. UES MissionControl
6 Sections:
+BD plus SD (Bass Drums & Snare Drums)
+HH (high-hats)
+Percs (percussions)
+Bassline
+Synth1
+Synth2
Pick any loops from the construction kits to automatically mix and match the sounds together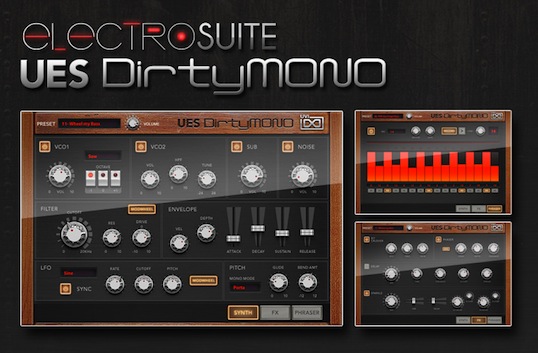 3. UES DirtyMONO
Hybrid and Dirty: a monophonic synth that sounds like no other synth. Electro sequence maker addicts -- the DirtyMONO phraser will make your day!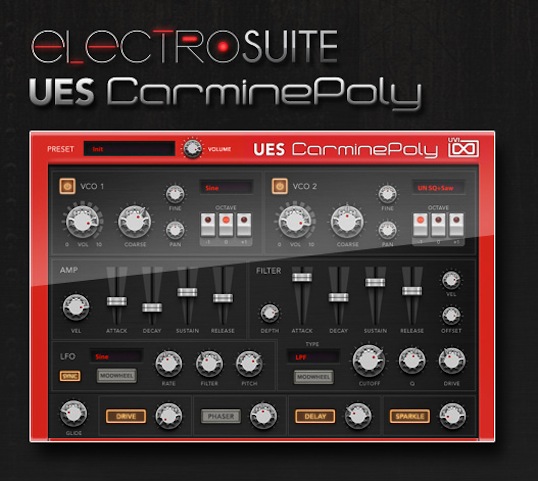 4. UES CarminePoly
An exclusive polyphonic synth with absolute attitudes you've never experienced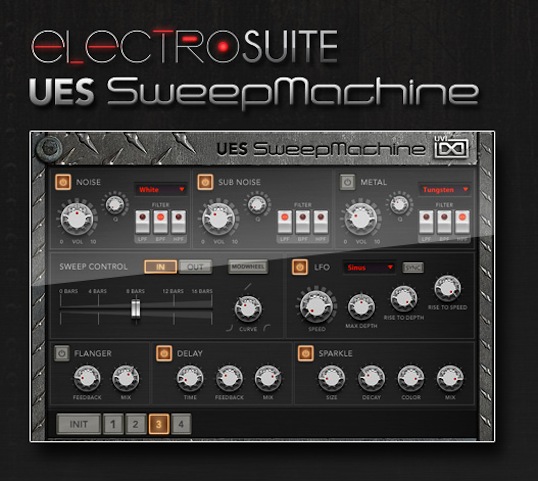 5. UES SweepMachine
A must-have tool for noise sweeps creation. Go way faster than the speed of light!
A HUGE sounds library recorded and mastered to perfection.
Electro Suite also features a complete sound library of 80 hi-profile construction kits, with all composing elements: thousands of drum loops, single hits, instruments and more.
Ready-to-go presets from construction kits
The UVI X-Samples category contains hundreds of playable presets chopped from the construction kits. No longer need to cut sounds up yourself from the loops!
Compatible with ALL sequencers
Thanks to the free UVI Workstation 2, Electro Suite can work:
+as a stand-alone instrument, compatible with MAC & PC
+as a VST, AudioUnit, RTAS and MAS plug-in. iLok required.
- 80 killer construction kits, sounds & instruments
- 24-bit / 96 kHz samples mastered to perfection
- Certainly the most comprehensive library of all kind of Electro-House genre
- Stand Alone, Mac / PC, VST, AudioUnit, RTAS, MAS - iLok required
Download Sizes
Version
Compressed Download Size
Plug-in/UVI Download includes
Product Download and Registration: Website
UVI Workstation User Guide: 2 MB
UVI Workstation for Mac OS X: 306 MB
UVI Workstation for Windows: 302 MB
UVI Workstation for Windows (x64): 279 MB
*When ordering the download product from Big Fish Audio you will be given one or more links for each of your product purchases. The links will be active for 24 hours. During this time you should download the file and expand it. You can return to your Big Fish Audio account at any time and download your products. You will find your products in the "My Products" area of your account page.
License Agreement
The Following End User License Agreement is included with Electro Suite. This License is only valid for the individual who has purchased an unopened, new and lawfully made copy of Electro Suite from a dealer or distributor authorized by Big Fish Audio.

"COPYRIGHT LAWS HAVE RECENTLY BEEN STRENGTHENED. IT IS IN YOUR BEST INTEREST TO READ AND FOLLOW THIS AGREEMENT.

This copy of the Sounds & Software (the Product) are licensed to you as the end user. Please read this Agreement carefully.

You cannot transfer ownership of these Sounds and Software they contain. You cannot re-sell or copy the Product.

LICENSE AND PROTECTION

1. License Grant. UVI, brand (UVI) grants to you, subject to the following terms and conditions, a non-exclusive, nontransferable right to use each authorized copy of the enclosed Product.

The enclosed product is the property of UVI and is licensed to you only for use as part of a musical performance, live or recorded. This license expressly forbids resale or other distribution of the sounds and software included in the Product or their derivatives, either as they exist on disc, reformatted for use in another digital sampler, or mixed, combined, filtered, resynthesized or otherwise edited, for use as sounds, multisounds, samples, multisamples, wavetables, programs or patches in a sampler, microchip or any hardware or software sample playback device. You cannot sell the Product content or give it away for use by others in their sampling or sample playback devices. In the event UVI terminates this Agreement due to your breach, you agree to return the original and all other copies of the software and documentation to UVI. UVI reserves all rights not expressly granted to you.

2. Protection of Software. You agree to take all reasonable steps to protect this product and any accom- panying documentation from unauthorized copying or use. You agree not to modify the enclosed product to circumvent any method or means adopted or implemented by UVI to protect against or iscourage the unlicensed use of copying of the enclosed Product.

3. Ownership. As between you and UVI, ownership of, and title to, the enclosed digitally recorded sounds (including any copies) will be held by UVI. Copies are pro- vided to you only to enable you to exercise your rights under the license. Only this license is purchased by you.

4. Term. This Agreement is effective from the date you open this package, and will remain in full force until termination. This Agreement will terminate if you break any of the terms or conditions of this Agreement. Upon termination you agree to destroy and return to UVI all copies of this product and accompanying documentation.

5. Restrictions. Except as expressly authorized in this Agreement, you may not rent, sell, lease, sublicense, distribute, transfer, copy, reproduce, display, modify or time share the enclosed product or documentation. THE SOUNDS IN THIS INSTRUMENT ARE GUARANTEED TO BE 100% COPYRIGHT CLEAN © UVI.net.

All rights reserved. All trademarks are the property of their respective holders. UVI.net is registered trademarks of Univers Sons, SA"
Back to top