Indie: Rock Collection from Big Fish Audio and Majorn9ne is back with this all new second volume. These 10 construction kits pick up right where volume 1 left off with tons of authentic loops in the styles of today's most groundbreaking indie artists. You'll certainly appreciate the expertly crafted guitar tones, punchy drums, and driving basses paired along with undeniably catchy background vocals, acoustics guitars, and a lot more. All in all, there is 4.6 GB of content (2.2 GB of original 24-bit WAV content) that includes all the multi-track drums broken out separately, which allows for completely custom drum mixes. Whether you're looking for just a bit of inspiration or the foundation for your next indie rock hit, you've come to the right place.
This product is part of Big Fish Audio's KLI series which includes a custom Kontakt interface. The Kontakt format includes patches of each loop. Customize each loop with the "sliced loops" patches. The Sliced Loop patches lay out each individual slice of a loop across the keyboard, making it easy to create new and original custom parts. The "Kit Combos" allow you to arrange full construction kits quickly and easily with a custom mixer and a host of included fx. Create, arrange, tweak, and mix all within the Kontakt format.
The KLI version of this product comes with the KLI 2.0 update and comes in both Kontakt 4 and Kontakt 5 versions. For those with the full version of Kontakt 5, take advantage of the new high quality and extremely flexible new time stretching algorithm as well as a bunch of new included FX.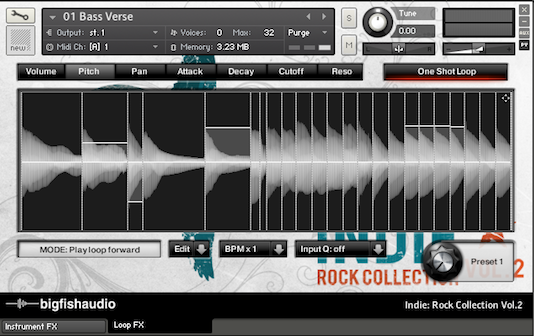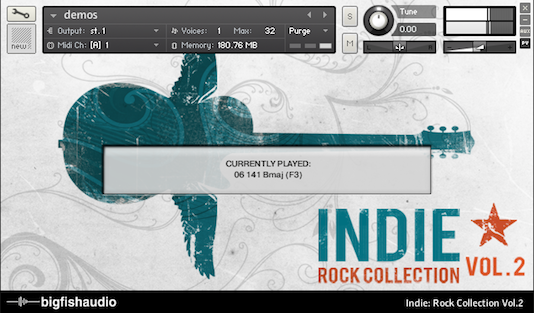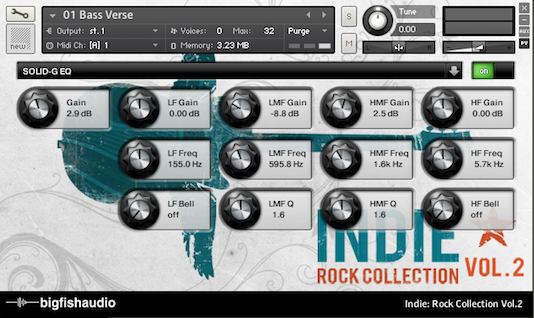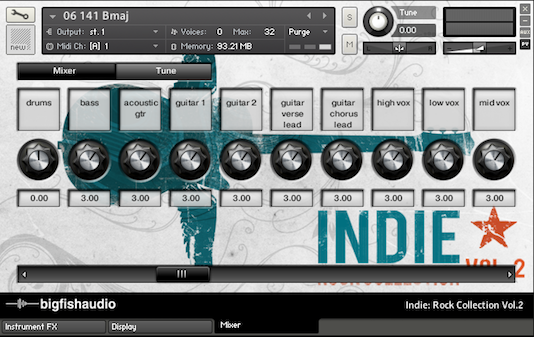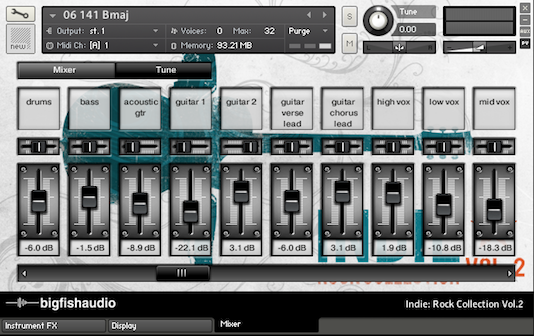 - 4.6 GB of total content
-1.5 GB of acidified WAV Loops
-1.5 GB of Apple Loops
-829 MB of REX Loops
-726 MB of Multi Track Drums
-397 WAV Loops
-397 Apple Loops
-397 REX Loops
-331 Multi Track Drum Parts
Instruments Include:
drums
bass
electric guitars
acoustic guitars
piano
vocals
tambourine
rhodes
shakers
fx
organs
_______KLI Info______
The full version of Kontakt 4.2 or higher is required to use the KLI version of this product
-1.5 GB of content with 397 different kontakt patches duplicated in both kontakt 4 and kontakt 5 versions
-10 Kit Combo Patches
-386 "Sliced Loop" patches
Download Sizes
Version
Compressed Download Size
Apple Loops/REX/WAV/Acid Download includes
WAV-Acid: 1.38 GB
Apple: 1.36 GB
REX-RMX: 828 MB
Multis: 593 MB
KLI 2.0/Kontakt 4/Kontakt 5 Download includes
Kontakt 4/Kontakt 5: 1.40 GB
Install Video: Watch Video
*When ordering the download product from Big Fish Audio you will be given one or more links for each of your product purchases. The links will be active for 24 hours. During this time you should download the file and expand it. You can return to your Big Fish Audio account at any time and download your products. You will find your products in the "My Products" area of your account page.
License Agreement
The Following End User License Agreement is included with Indie: Rock Collection Vol.2. This License is only valid for the individual who has purchased an unopened, new and lawfully made copy of Indie: Rock Collection Vol.2 from a dealer or distributor authorized by Big Fish Audio.

"The samples contained herein are licensed, not sold to you, the individual end user, by Big Fish Audio. This non-exclusive, non-transferable license is granted only to the individual end user who has purchased a lawfully made copy of this product from Big Fish Audio or a distributor authorized by Big Fish Audio. All samples remain the property of Big Fish Audio and are licensed only for use in the creation of a live or recorded performance that includes the licensed samples as part of a derivative musical work created by the licensed end user. This license expressly forbids resale, rental, loan, gift, or transfer of these samples in any format or via any medium, except as part of a derivative musical work. The samples may not be included, whether unmodified or as part of a derivative work, in any sample library or virtual instrument product. If you use this product in the creation of a music library, or music intended to be included in a music library catalog, you cannot use the demonstration mix track files or recreate the demonstration mix track, you can only use the other files to create a derivative musical work. When present, the demonstration mix track files contain the word "demo" in the file name. Some products do not contain any demonstration mix track files or demo files. All rights not expressly granted herein are exclusively reserved by Big Fish Audio."
Free Pack
Free samplepack featuring one free kit of loops. This pack only contains a partial set of loops from the included kit. The full library contains various other loops and samples from the kit. This pack contains WAV, REX, and Apple Loop versions of each loop.
Download Size: 76 MB Click here to Download
Back to top